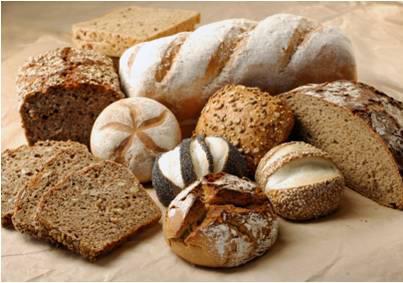 Whole grain foods are increasing in popularity and consumption because of the health benefits they offer. A diet high in whole grain foods is associated with a significantly lower risk of developing cardiovascular disease, including heart disease and stroke, according to an analysis conducted by researchers at Wake Forest University School of Medicine.
A grain is "whole" when the entire grain seed is retained: the bran, germ and the endosperm. The bran and germ components are rich in fiber, vitamins, minerals, antioxidants, and healthy fats. These are the parts removed in the refining process, leaving behind the energy-dense but nutrient-poor endosperm portion of the grain. Examples of whole grain foods include wild rice, popcorn, oatmeal, brown rice, barley, wheat berries and flours such as whole wheat. (~source sciencedaily)
Here are a couple of ideas that will help you enjoy your whole grain diet:
• Buy 100% whole wheat atta for your rotis
• Instead of white bread, use whole wheat bread for sandwiches
• Switch to wheat flakes for breakfast cereal
• Add sprouted wheat to salads 
• Use whole wheat pizza bases and pasta (spaghetti, fettuccini, penne, etc)
The secret of a healthy life lies within you. Become aware, discover your own power potential towards a healthy and happy life.
Healthy Diet – Health Inspirations ~ Encouraging a Beautiful You!!!!
Start a Healthy Life ~ Here & Today
Related posts: