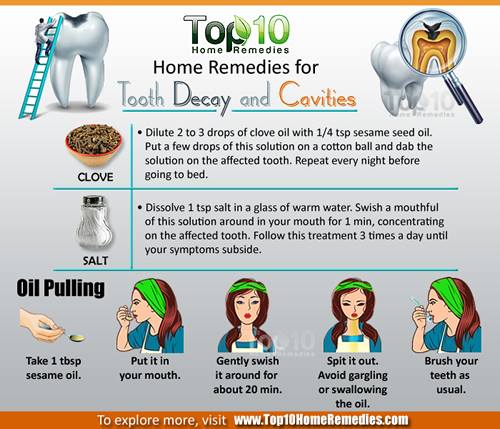 The signs and symptoms of cavities vary, depending on the type and the severity of the problem. Some common symptoms include toothache, tooth sensitivity, mild to sharp pain when eating or drinking, visible holes or pits in the infected tooth, and black, brown or white stains on the tooth's surface.
If cavities aren't treated, they can lead to severe toothache, infection and even tooth loss. Some of the treatments for tooth decay and cavities are fillings, crowns and root canals.
The first step toward preventing cavities and stopping existing cavities from becoming worse is to take good care of your teeth. Brush your teeth for at least 2 minutes twice a day, in the morning and before bedtime. Floss once a day and also clean your tongue daily.
There are also some natural remedies that can help provide relief and maintain good oral health. Also, consult your doctor for proper diagnosis and treatment.
Home Remedy – Health Inspirations ~ Encouraging a Beautiful You!!!!
Start a Healthy Life ~ Here & Today
Related posts: