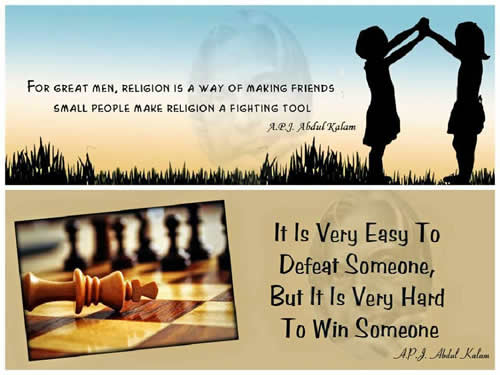 APJ. Abdul Kalam said
"My message, especially to young people is to have courage to think differently, courage to invent, to travel the unexplored path, courage to discover the impossible and to conquer the problems and succeed. These are great qualities that they must work towards. This is my message to the young people."
One of the major contributors in the progression of science , technology and politics of our county, yet had no airs about it . In his last moments he was addressing the youth with his vision for the nation. ‬ Missile Man
A true secular like Dara Shukoh, a great man who felt Indian first and Muslim second. He indeed won the heart of the nation with his humble yet powerful persona. He may have gone in his physical but his message to youth will linger on and serve as a guide forever.
His life will remain a celebration for us with our scientific temper, patriotism and dreams for this nation.
Om Shanti Dr APJ Abdul Kalam.
(October 15, 1931 (age 83), Rameswaram – July 27, 2015 Shillong)
By  Dr. Subramanian Swamy
Get Inspired ~ Inspire Others – Inspirational Quotes,picture  and Motivational Thoughts.
<<< Home >
Related posts: