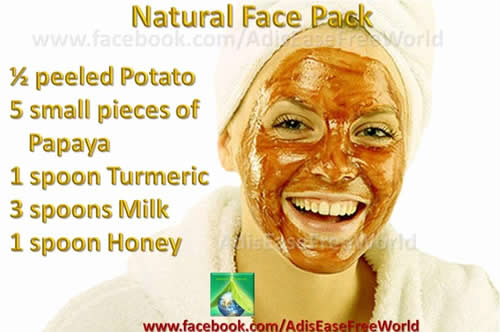 Natural Face Pack :
The home made natural and nourishing face pack for smooth skin and glow. Don't spend money on expensive and chemically loaded face packs.
Ingredients :
½ peeled and finely chopped Potato
5 small pieces of Papaya
1 spoon Turmeric
3 spoons Milk
1 spoon Honey
How to make it :
Put all the ingredients in mixer – blender till it becomes a fine paste.
How to use it :
Wash your face and apply the face pack on face, neck and upper throat. Keep the face pack till it dries up completely (roughly 15 minutes). Wash your face with warm water.
Apply it everyday for one week and then twice a week.
Check for your individual skin allergy to any ingredient.
source~ AdisEaseFreeWorld
Beauty Tips – Health Inspirations ~ Encouraging a Beautiful You!!!!
Welcome Home to a Healthy Life
Related posts: