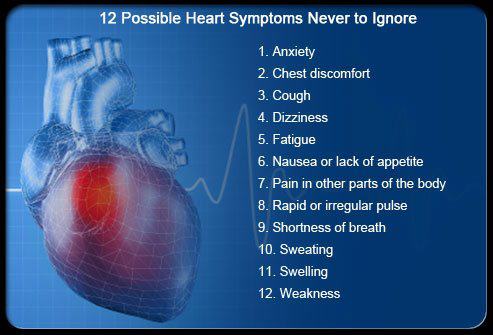 12 Possible Heart Symptoms Never To Ignore ~ Live Healthy
1. Anxiety
2. Chest Discomfort
3. Cough
4. Dizziness
5. Fatigue
6. Nausea or Lack of Appetite
7. Pain in other parts of body
8. Rapid or irregular pulse
9. Shortness of breath
10. Sweating
11. Swelling
12. Weakness
You should get a annual health checkup, Specially, if you are above 40 years of age. As body ages, it deteriorates much faster than you imagine due to lack of exercises, bad eating habits, stress etc.
Do not take your apparent good health for granted. You may be aware of the NIMBY (Not in my backyard) concept wherein people believe that bad things cannot happen to them. And hence, keep on ignoring the little pains assuming that nothing can go wrong.  However do not take this risk.
Recent research indicates that increasingly, people in the early 40′s are grappling with heart diseases due to increased stress and inactive lifestyle & unhealthy diet.
So Take care. Stay alert. Have a healthy heart. Live Healthy. Live Happy
Healthy Lifestyle – Health Inspirations ~ Encouraging a Beautiful You!!!!
Start a Healthy Life ~ Here & Today
Related posts: