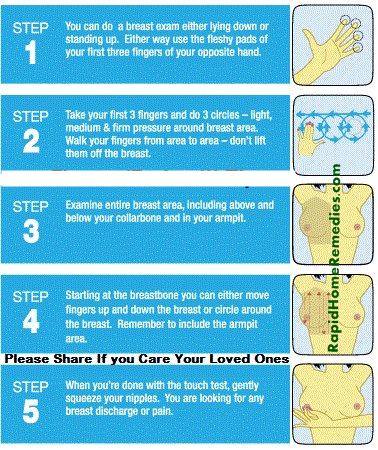 Check yourself !!! Especially Women !! To avoid BREAST CANCER.
5 steps to confirm check yourself …..
>Nobody knows your body better than you. A routine breast self-exam could help save your life one day!
=>First, check yourself out in the mirror and ask yourself these questions:
>Do my breasts look the same?
Is one larger or smaller than the other?
Are my nipples the same shape?
Are the veins more noticeable on one breast than the other?
Is there any dimpling or puckering of the skin, bruises or bulges?
Is there a lump, hard knot or thickening of the skin?
Other changes that you should watch for include:
Swelling, warmth, redness or darkening
Itchy, scaly sore or rash on the nipple
Pulling in of your nipple or other parts
Nipple discharge that starts suddenly
New pain in one spot that does not go away
Best time to do a breast exam?
Ten days after the first day of your period when tenderness and swelling are low.
If you notice any changes or feel pain, call your doctor
* Its just to give you health Information !!!
Please like it ….!! Share if you care for your loved ones
Health Inspirations – Tips – For Healthy Life – Take care of you Body. It is the only place you live
<<<< In pursuit of a Healthy Life ~ Welcome Home >>>>
Related posts: