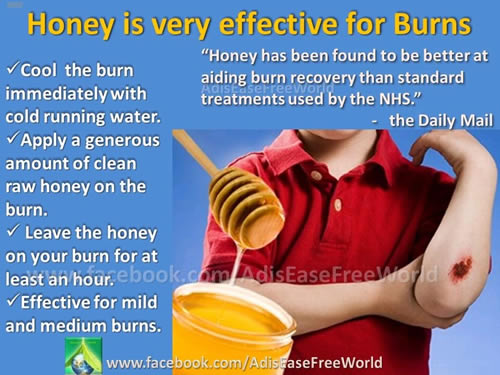 Apply Honey for burns:
Did you know that raw honey naturally contains the necessary components to produce food grade hydrogen peroxide? These components become active when applied to a wound. The glucose oxidize in honey reacts with the sodium and PH content in your skin causing the glucose to break down into hydrogen peroxide. This makes raw honey an excellent wound healer.
"Honey has been found to be better at aiding burn recovery than standard treatments used by the NHS," the Daily Mail reported. The newspaper said that scientists had pooled data from 19 trials involving more than 2,500 patients with various wounds. They found that mild to moderate burns took less time to heal when honey was applied than some widely used dressings.
This review was carried out by the Cochrane Collaboration and is a very thorough investigation of the existing research on the use of honey in treating wounds. It found that honey might improve healing times in some types of burn (thin burns which are mild to moderate, superficial and of partial thickness) compared with some conventional dressings.
How to treat a burn with honey:
1. Cool the burn immediately with cold running water.
2. Apply a generous amount of clean raw honey on the burn. 3. Leave the honey on your burn for at least an hour. The medicinal properties of honey will continue to work on healing your burn after the pain subsides. You can leave the honey in place up to 48 hours.
4. Reapply as needed after leaving the wound uncovered for an hour or so each time. Don't wash the wound in between applications! Keep the wound dry. Change the dressing/honey application a maximum of 4 times a day.
This post is for generic information and not a substitute for medical treatment.
Home Remedy – Health Inspirations ~ Encouraging a Beautiful You!!!!
Start a Healthy Life ~ Here & Today
Related posts: