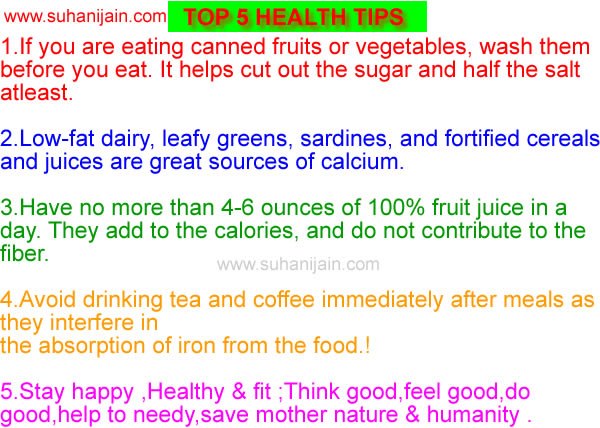 1.If you are eating canned fruits or vegetables, wash them before you eat. It helps cut out the sugar and half the salt at least.
2.Low-fat dairy, leafy greens, sardines, and fortified cereals and juices are great sources of calcium.
3.Have no more than 4-6 ounces of 100% fruit juice in a day. They add to the calories, and do not contribute to the fiber.
4.Avoid drinking tea and coffee immediately after meals as they interfere in the absorption of iron from the food.!
5.Stay happy ,Healthy & fit ;Think good,feel good,do good,help to needy,save mother nature & humanity .
Health Tips ~ Be Aware : Take care of your body ~ Health Inspirations
<<<<Drink Natural ~ Be Healthy..Welcome Home>>>>
Related posts: